If you happen to be the creator of any Warcraft-related original content (written, visual or audible), then you are invited to have it featured on WoW Lore TLDR's main page!
Show your Content to Thousands of Monthly Visitors
Original Warcraft-related community content is featured at three distinct locations across the main page.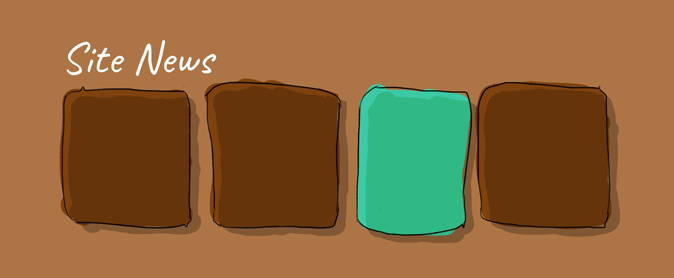 Section: Site intro
Level: Surface (always visible)
Format: Text with a picture (main page) and links (post page)
Thumbnail: Always
Availability: Plentiful
Duration: Until new posts come out (few days to a few weeks)
The Spotlight lies in the news row at the homepage's intro and features the latest Community Spotlight blog post complete with a large thumbnail. These features will be among the first things that visitors see, and will feature your original content, personal details and/or links in a dedicated blog post. As new Spotlight content comes up, older content is gradually pushed down the list.
Get Quality Traffic & Enhance Your Google Rankings
The backlinks you get are not only measured by their number, but also by their strength. Thanks to WoW Lore TLDR's position as a lore authority, any backlinks you get from it won't only bring you in a hot audience, but will also inadvertently enhance your Google rankings.
WoW Lore TLDR was featured in PC Gamer, Kotaku AU and others upon its launch in July 2017, and has been ranking highly for lore-related searches since then.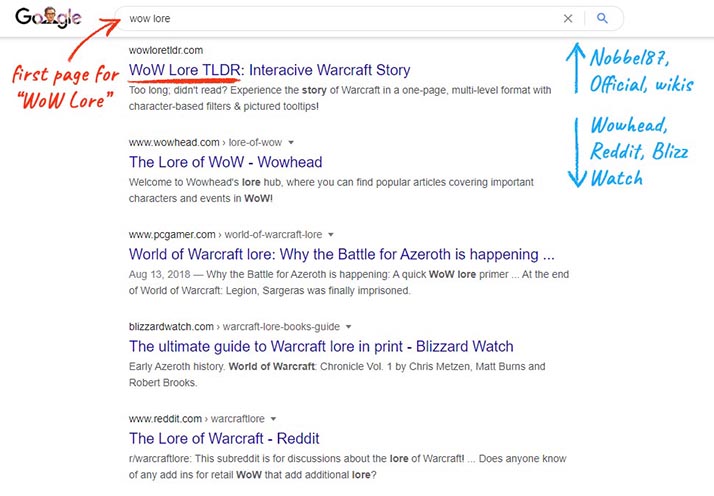 Participation is a Piece of Cake
If you're ready to submit your original content, simply:
Share: Join the Discord server and share your content in the appropriate channels (artworks in #art and everything else in #wow-lore-general). Alternatively, you may reach out via private messaging on Twitter or Facebook.
Review: If your content is selected, I'll make a draft and share it with you to see if you would like to request any changes.
Retweet (Optional): Once the feature or story goes live, you may retweet it to generate some publicity.
What to include: At any point of the process, you may freely choose which of your content, personal details and/or links you would like to promote, including commercial links.
Original content must be of a decent quality and add up to what the site has to offer rather than strictly substituting for it.
Best of All, It's Free & Non-Binding
Participation is completely free and WoW Lore TLDR doesn't get anything in return other than enriching the site's content and getting more things to tweet about.
Feel free to retweet and/or link back to us, but that's completely optional. The process of linking back mutually boosts our Google rankings and credibility.
This non-binding aspect goes both ways, as static slots are limited -as mentioned- and will eventually become the subject of competition. To mitigate that problem, you could become an official affiliate.
As an Affiliate, You Have Guaranteed Spots
Getting featured, as mentioned above, does not mandate linking back, but may eventually require you to compete for static slots when they run out. Affiliated content creators get guaranteed static slots in addition to their temporary Spotlight feature, in exchange for backlinking to WoW Lore TLDR form their site. Recommended for medium content creators.
Alternatively, however, there's one last method for co-operating with WoW Lore TLDR, and that is by becoming a contributor.
As a Contributor, You May Freely Promote Your Content
Although registrations and user submissions are not open at the moment, I can make an exception for anyone keen on sharing their original content directly on WoW Lore TLDR. By doing so, you're allowed to submit your publications as your own and promote any relevant personal sites (Patreon, YouTube...etc), as long as you provide quality content for readers.
Those interested are welcome to contact me via Discord or any of my social media posted in the "Participation..." section above.